During this daytrip we will also have a peek in some popular areas like in the Rio Vermelho neighborhood where you will perceive the influence of the mysterious Candomblé-religion or have a peep in the most famous (at least by locals but, mostly overseen by the tourist-industry) Mercado São Joachim, a huge market where one can buy everything needed for home, starting from food (all possible kinds of fruits, vegetalbes, fish, dried shrimp, beans, etc) over all kinds of things like as for interior decoration and even hand-made cigars.

So, we can offer you a tailor-made tour of Salvador where you will visit / see the things YOU want to see. If you have some more time you could also consider a visit to a typical small colonial town inlands which is the city of Cachoeira. Take a look at this tour HERE.
Get in touch with us via our
CONTACT-page
for more info.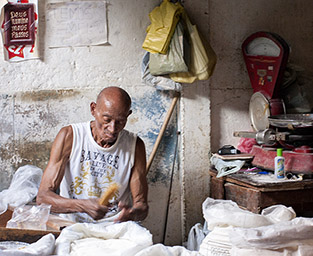 We can put you in close contact with the locals so can learn learn about their daily life and habits
Some call it "social tourism", others just "socialising" ... It does not matter. It is nice if you want to learn about local habits. We could do that with you in different ways. Maybe you'd fancy a walk in an easygoing favela ? Or take the favela-train along the Bay of All Saints ? Get a close feel with the fisherman in Rio Vermelho and visit their cosy little temple of Iemanja ? Have a walk in the most famous Mercado São Joachim. This market is so large you could wander around for half a day before finding your way back out BUT, you will have flavoured a lot of tropical fruits and vegetables that are so typical for Bahia.