Contact us, via WHATSAPP, to check availability if you'd like to discover Salvador with us this week !



Discover the nicest places of Salvador with our historical daytrip "500 years in 1 day".
With our full day tour "Salvador 500 years in 1 day" you will enjoy the city in a different dimension.


When we collect you (by car) at your pousada/hotel/appartment in the morning we shall have a small briefing to list up your desires and wishes. On base of that briefing we will build an enjoyable day's program.

For a start we will take you back in time down to the "Barra" region. About 5 centuries ago the Portuguese conquerors first set foot on the grounds in this area, when Pedro Álvares Cabral discovered the entrance All Saints Bay November 1st 1501 (on behalf of the Portuguese Crown) near the actual lighthouse 'Farol de Barra'.

.
Walking and driving we gradually go back to the future of nowadays through some interesting historical spots (most often overseen by the 'classic tourist industry').

So you will enjoy a guided tour where we will visit a selection of the much coveted fortresses. They have been targeted by so many foreign powers the last 500 years. A fine example is the Forte de Monte Serrat.


Another one, the Forte São Marcelo (acturally closed by IPHAN) has a unique location in the old harbour in front of the former customs building "Mercado Modelo". Jorge Amado jokingly called this doughnut shaped fortress near the Terminal Maritimo the 'Belly button of the Brazil'.. The São Marcelo Fortress, built between 1650 and 1680 in a mix of medieval and colonial styles, housed the Imperial Army for over 200 years...



.
Bahia's economy essentially evolved around this spot, with it's merchants, the market, and the port clustered practically within arm's reach.
Besides the different fortresses (Salvador has always been a much coveted place in the colonial era) like Diogo and Monte Serrat we can also take a look at the Marine museum in the Barra lighthouse. It shows some typical history artefacts from the naval experiences by the different colonisators that tried to get their piece of Brazil.
During this daytrip we will also have a peek in some popular areas like the Rio Vermelho neighborhood where you will perceive the influence of the mysterious Candomblé-religion.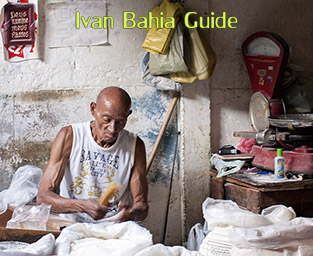 We can put you in close contact with the locals so can learn learn about their daily life and habits.
Some call it "social tourism", others just "socialising" ... It does not matter. It is nice if you want to learn about local habits. We could do that with you in different ways. Maybe you'd fancy a walk in an easygoing favela ? Or take the favela-train along the Bay of All Saints ? Get a close feel with the fisherman in Rio Vermelho and visit their cosy little temple of Iemanja ?
.





.
Let's have a walk in the most famous Mercado São Joachim. This market is so large you could wander around for half a day before finding your way back out.
.
In the end you will have flavoured a lot of tropical fruits and vegetables that are so typical for Bahia.



Bahia is known for it's typical etno-gastronomy, like moquecas, where palmoil and coconut are in the spotlight.

Bahia, the Black Pearl of Brazil, is probably the most colored state in this immense country and, most certainly worth your visit. Here you will encounter several hundred years of cultural blending in the most imaginable ways. A feast for your eyes, ears, pallet, ...
The interesting of our typical local etno-gastronomy here is the huge African influence in almost every aspect of cuisine.
I you would wish so we can take you to a local little restaurant to eat 'Comida Caseira' home-made food or go to the most famous SENAC Culinairy Institute where you could savour a buffet of over 60 local specialties at will.


.
The choice is yours, as always.

And remember during our tour you will have access to our free mobile WiFi hotspot, so you can immediatelly post your nice experiences on the social networks.
Most wanted, professionally licenced, private tour-guide services for every traveler in Salvador da Bahia, North East Brazil. Lowest price available for walking-tours with locals. Book directly with Ivan Bahia Guide to get the cheapest price. We work together with Tours with Locals collegue Guides from Le Guide du Routard, Tripadvisor, Free Walking Tours, and Rent a Guide. Thanks to Tours by Locals guides Fernando Bingre, Marcio, Bahiaflaneur, Bahia Metisse, BahiaMetisse, Dirk Van Kerckhove, André Alves, Frank Faro, Sayuri Cardoso, Clara Manuela Bastos Ramos, Juha Paltila, Jürgen Szillat, Thiago Barra, Laura Medeot dos Santos and others for their collegiality.
You are visitor :

nipleuje goggol, kenweere baageewerkt ip 28201909 sachternoens, ier ip d'algemeene plekke en veur een betse mee eu kluuetses te rammeluh